Welcome to my house blog hop!
I have been so wrapped up in blog hops and other things lately that I've been kind of stressing about what to make for this blog hop, the rule is to have something with a house on it!
Now I could have made JUST a pincushion, which I still might….
But when I need something fast I always thing Accuquilt first!
I recently made this quilt for Accuquilt and I now have seen it in quilt magazines (ads) so that's fun!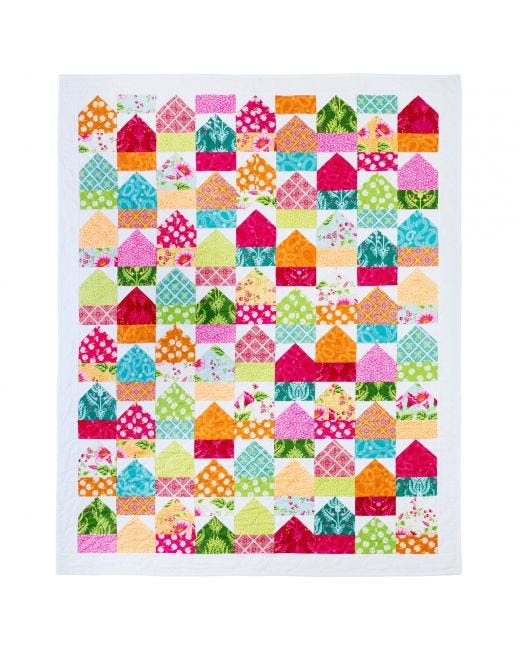 It's called fun neighborhood and is made with the 8" QUBE and companion set
I didn't want to make a BIG quilt, but maybe a table runner and something with just a few FQs, I had this bundle from connecting threads and figured I'd just use that. 3 golden fabrics and white for the background
So I played around in EQ8 and came up with this
AND instead of using the 8" QUBE set I decided to use the 6" set, so the houses are smaller and the runner would be 21" x 13 1/2"
I set to work and cut out the pieces in a snap! (7 sets of each)
and sewed the half house pieces together
and then the houses
and before adding the foundations I put it all on my design wall to see what it would look like
and sewed it together like this
I made binding out of a yellow striped scrap I had enough of and then I did a new technique I had seen on Fons and Porter (actually the episode with my leaf quilt!) you sew the binding onto the back, then use 1/4" steam a seam lite and iron it on on the inside of the seam on the front
then remove the paper and iron the binding to the front like this
It was a bit odd, as I'm not used to it, but it's okay I guess, don't know if I'll try it again though, but a fun little experiment
and here's the finished quilt
I quilted clam shells on it- just like the sample one
a fun and fast little mini quilt/ table topper!
If you haven't seen the other participants yet, have a look
and thanks to CAROL for organizing this great hop!
September 10
Pieceful Thoughts of My Quilting Life
September 11
September 12
Adventurous Applique and Quilting
September 13
Quilting & Learning - What a Combo!
September 14
Benita Skinner's Creative Space