When Carol announced this blog hop I knew I wanted to jump on it and make something! I quickly ordered fabrics from connecting threads, first a FQ bundle and then some charm squares, I had NO plan yet, but at least something Christmasy was on the way
Then after I found Molly and Mine website, her crazy quilt designs are JUST gorgeous!! I waited for a 4th of July sale and ordered her big set of Christmas crazy patch set!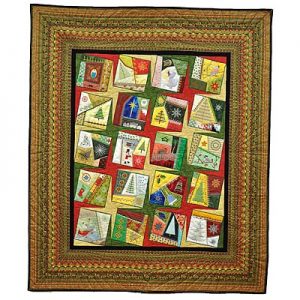 I wasn't sure how I would put the quilt together, but the plan was to make all 20 blocks! I had ordered the 5" set since my 5x7 hoop is a popular size and I have stabilizer for it and I was thinking that it would not use up THAT much thread (vs the 8" size!)
Here's block #1 started.
this was a sort of new technique to me, usually I've done the flip and stitch way, but this one just stitched down patched and I trimmed close to the stitch line and then continued with the design.
It turned out SO cute!! I was hooked!
Most of the designs had over 20 thread changed! and even with a big machine like mine that uses 6 spools at a time and speed at 7-800sps, each block took roughly 45-60 min!!
I was working on these blocks between projects, but then this weekend I had only about half the blocks done, so I got into panic mode and did the rest over a few days, running it non-stop Saturday!
-whenever I have deadlines I'm usually very early and with this one I was not!!
well I DID finish in time and the blocks are adorable and so WORTH it!!
I then played in EQ8 and came up with some ideas
Hubby liked the dark green border
don't like the white and green
but loved this red and green version, my idea being scrappy with leftovers from the FQs!
since the blocks were 5" that's 4 1/2" when sewn together, then if I added a 1 1/2" finished sashing, I could then use my 6" QUBE set and cut out the pieces for the borders quickly!
and here's the result!
I then quilted it and finished it Monday (3 days early!!)
It measures 32" x 38"
I quilted curves on the borders and a little loopy design, then a ribbon design on the sashing and I left the blocks alone, it makes them a bit puppy but not bad at all, I like it!
Here's a close up of the blocks!
I love all the details of them!!
And to have a set that didn't have SANTA in it!! (she does have a santa version too, we just don't do Santa in our house….anyways)
( this also made me look into digitizing software- well at least add to my wish list!)
I ran out of the light green thread on the last 4 blocks, but I don't think it's noticeable
I'm very happy with how this quilt turned out!!
I had quite a bit of the FQs leftover, so I used my 5" square die from the 9" QUBE set and cut out a bunch, there's 2 piles of 35 each (If I counted right) and I'm giving them away!! (2 sets, so 2 winners!!-if I can do that in rafflecopter!?)
Here's the rest of the participants!
Thanks to Carol for hosting!!
July 23
Adventurous Applique and Quilting
July 24
July 25
July 26
Tu-Na Quilts, Travels, and Eats
July 27